Roche Build - New Build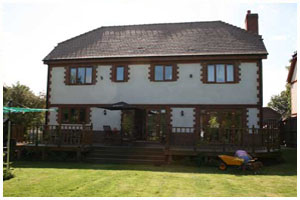 These 2500 sq/ft large 4 Bedroom detached properties were traditionally constructed with self-colored external render with brick quoins, covered with Clay tiles, and are typical of the New Build projects undertaken by Roche Build.
Bungalow at Landford, which is currently in its final phase of construction.
Sometimes we are asked to plan and design a property, but on other occasions the designs will have already been created and we will work hand-in-hand with the entire project team comprising the client, Architect, Surveyor and Building Control.
The specifications and costs are clearly defined at start of
every project and we always provide realistic deadlines.